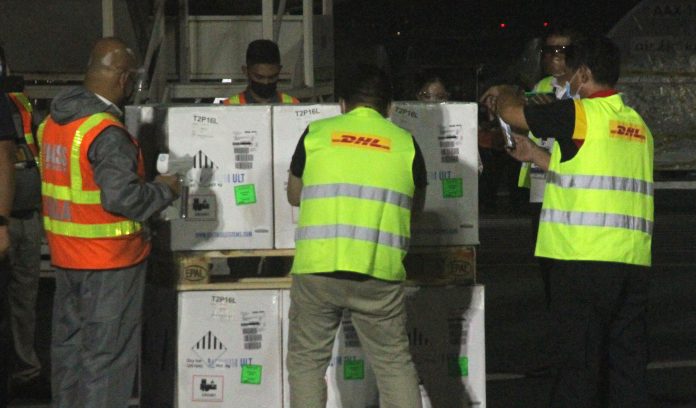 By Ferdinand Patinio | Philippine News Agency
MANILA – The number of doses of coronavirus disease 2019 (COVID-19) vaccines either procured by the government or donated to the country is nearing the 100 million mark, National Task Force (NTF) Against COVID-19 chief implementer, Secretary Carlito Galvez Jr., said late Friday (Oct. 22).
Galvez reported that as of Oct. 22, the country received a total of 94,687,340 doses of various brands of vaccines – Sinovac and Sinopharm from China; Sputnik V from Russia; AstraZeneca from the United Kingdom; and Pfizer, Moderna, and Johnson&Johnson from the United States.
"Yes, because this coming Sunday we will be receiving another three million. We are nearing that mark. We only need 2.3 million and there are still donations that are coming in. There's also another Sputnik V that is coming, also donations from (the) US that will be coming in, two million-plus, and also some of the donations of other countries," he said in an interview after the arrival of 1,014,390 doses of Pfizer vaccine at Terminal 3 of the Ninoy Aquino International Airport (NAIA) in Pasay City.
The Pfizer vaccine was procured by the government through the Asian Development Bank.
Galvez again thanked the US government for the vaccine delivery.
"We are very thankful that almost every day, we are receiving vaccines, and majority of which is coming from the US. Again, (on) behalf of the NTF, we would like to thank Pfizer and also the US government for continuously giving us this access and the deliveries," he said.
Meanwhile, the political counselor of the US Embassy in Manila, Edward Vincent O'Bryan, assured the cooperation of the US government in addressing and alleviating the effects of the pandemic.
"I'm very pleased that I could be here tonight for the delivery of such a significant quantity of vaccines from (the) US. As you know, we've been cooperating with the stakeholders in the Philippines since the start of the pandemic and try to address and alleviate the suffering caused by the pandemic," he said in an interview.
"I think it's important that the Philippines is able to get their vaccines from (a) variety of sources, whether it be through COVAX or through purchases, such as through American pharmaceutical companies."
A total of 698,600 doses of the AstraZeneca vaccine also arrived at the NAIA 3 on Friday morning.
They were procured by the private sector. (PNA)